I suck so bad at it that I'm still at the phase where I can hardly know where to begin. Finally I decided to kickstart the process and appropriated some artwork from OpenGameArt.org. It's a very pixelated terrain tileset with an 8×8 base resolution. It looks like this: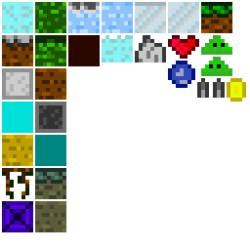 Sadly, the author packaged it with 2 pixels of padding between tiles, which means that my own tileset padder can't work with it. It also can't be imported for editing with PyxelEdit. This is a perfect example of how everything always takes longer than you think it will, even when you know that everything will always take longer than you think it will.
I had a few options to get the tileset into the game:
Modify the tileset padder tool to accept a padding argument. This seemed like a lot of work for such a small task.
Edit the image in a paint program, eliminating the padding. This too seemed way too complicated.
Import the individual sprites one by one into PyxelEdit, then import all those .pyxel files into one merged tileset.
The last option was tedious, but still way faster than either of the other two. But I have a feeling in another few weeks I'll have to do this again and I'll wish I had modified the tool in the first place.
Anyway, I finally got the tiles imported into the map, and you can see them in action below:
I must say, I'm kind of liking the super pixelated look of this tileset! But I'm torn. The tiles I drew for the ship have an effective 16×16 base resolution, or 4 times the ones outside. Keep in mind that the game uses a 64×64 tile size, so it's the difference between an effective 4X pixelation factor and an 8X pixelation factor. It's a huge difference, and something I probably need to standardize on to avoid any jarring contrast. Any thoughts on which resolution is better? Let me know in the comments!
I'm excited to really start filling the world in and populating it with enemies. It's still so small!
But it looks even smaller in the context of the game world's scope. Each of the boxes in the map below represents one screen width and height of the game world.
Phew. Long way to go.